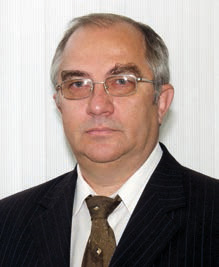 Yuri Bely on latest products from Tikhomirov-NIIP

The key feature of the PAK FA Future Tactical Fighter, as the T-50 fifth-generation fighter being developed by Sukhoi is known, is its integrated multifunction radar system wrapped around active electronically scanned arrays (AESA). The radar system is designed for a wide range of tasks, such as seeking for and acquiring aerial and ground targets, supporting the use of weapons, navigating, mapping, jamming, etc.

The AESA radar is being developed by V. Tikhomirov Scientific-Research Institute of Instrument Design (Tikhomirov-NIIP), the Russian leader in the development of phased-array radar systems for aircraft and army air defence systems. The developer has demonstrated prototype AESAs developed for the PAK FA at previous MAKS air shows. The work on them has made considerable progress since then. Take-off met with Tikhomirov-NIIP Director General Yuri Bely and asked him to describe the trials of the AESA radar on Russian fifth-generation fighter and the results.
Mr. Bely, would you comment on what you displayed at the MAKS 2015 air show, please?

We have demonstrated experimental and prototype AESAs design for Sukhoi T-50 fighter during previous MAKS airshows. We unveiled the X-band forward-looking AESA in 2009, the side-looking one in 2013 and the wing-mounted L-band AESA before that. Until recently, we have showed them separately, and now we have demonstrated the whole of the PAK FA's AESA system in an animated presentation - the way it will fit the aircraft. Firstly, we are not sitting on our hands, and our AESA programme has made considerable progress. We have released the updated design documentation, the forward- and side-looking AESAs have lost weight by far, their hardware has become smaller and their performance higher. These improved AESAs based on a more advanced technology have been displayed this time around at MAKS 2015.

The refined technology resulted from the bench and flight tests we have run for several years. Our AESAs have been flying on the T-50 prototypes for as long as three years. Mind you, there has been no significant failures of our equipment during the flight trials, the characteristics of AESAs have not degraded. When we have an opportunity during the tests to dismount the equipment from the plane, we bench-test it, compare it with its initial condition and see that its parameters remain normal. Therefore, we are certain that we follow the right way and that the fifth-generation fighter carrying our AESA will meet all requirements after it has entered service with the Russian Air Force.

What are the preliminary results of the tests?

The first flight of the T-50 prototype (the third flying example) with the activation of the forward-looking AESA radar took place in Zhukovsky on 26 April 2012. We started the intensive flight tests of the AESA radar in the summer of the same year. To date, the AESA radar has passed its preliminary tests, and we submitted the forward-looking radar for its official trials onboard an aircraft.

I can tell you that the preliminary tests have proven virtually all of the performance objectives in the basic air-to-air and air-to-surface modes. Now, we have started integrating the AESA with the weapons suite and we will test its interaction with weapons. There are two aircraft in trials at Akhtubinsk now - the third and fourth T-50 flying prototypes, both used for testing our AESA radar. As we expected based on the bench test results, the AESA's capabilities on the fourth aircraft has increased compared with those on the third one, and they will be even better on the fifth flying prototype. We have been steadily improving the characteristics of our equipment to meet the requirements specification.

I would emphasise the reliability of the AESA. This true that in the early phase of the trials, we had to reject some of the transmit-receive (T-R) modules supplied to us. It is natural for such advanced hardware at the early stage of the development. I am satisfied now with a radical increase in the reliability of T-R modules. While the early AESA radars had to have faulty modules in their arrays replaced at the assembly and test stage, our current AESAs have had almost no failures.

As is known, in real life, the failure of about 10% of T-R modules (especially if they are spread throughout the array) has virtually no impact on the performance of the radar. Today, we are almost within these limits. However, we virtually did not repair even our early phased-array radars, which had less reliable microwave modules; we focused on their tests instead. This was not the case with our preceding radars, when we had to fix failures more than run the tests. Thus, this is another important advantage of active electronically scanned arrays.

The AESA has done well in the flight trials. The third PAK FA flying prototype has logged around 120 test sorties with its forward-looking AESA radar turned on and there have been literally only a handful of failures preventing the aircraft from accomplishing its test missions. Under the test programme, the fourth PAK FA flying prototype have flown somewhat less AESA test sorties (its flights have been dedicated to other objectives so far), but the sorties, which included turning the radar on, have mostly been successful.

How many AESAs have been manufactured to date?

The first two forward-looking AESAs are in bench tests - one at the chief designer's bench in our institute and the other in the Sukhoi design bureau. They are used for testing sophisticated operating modes and introducing design and software improvements. Two AESAs are flying onboard the third and fourth T-50 flying prototypes. The fifth flying prototype started its trials in Komsomolsk-on-Amur following a repair. It is equipped with our AESA too. The sixth array has passed its preliminary lab tests both independently ad as part of a radar and will commence its interdepartmental ground tests at Tikhomirov-NIIP soon.

Another AESA has been mounted on the sixth flying prototype expected to join the trials before year-end. The aircraft will carry a complete set of our AESAs - the forward- and side-looking X-band ones as well as wing-mounted L-band sets. Two more arrays are about to leave the assembly shop, one being bench-tested and the other being assembled. The Ryazan State Instrument-making Enterprise (GRPZ) is making two more.

I have been to Ryazan recently and have been pleased to see the first of the GRPZ-assembled AESAs calibrated and tested at a test rig. The two arrays being assembled by GRPZ will pave the way for the full-rate production of AESA in Ryazan.

Could you compare the AESA with the Tikhomirov-NIIP Bars and Irbis phased array radars equipping the Su-30 and Su-35 fighters?

To date, we have been flight-testing the AESA in the operating modes that had been implemented in our previous radars, and it has proved to be as good as they are in terms of performance and far more reliable than its predecessors were at the same development stage. However, the AESA has got many operating modes inapplicable to the traditional phased array. They will afford the aircraft as a combat system drastically advanced capabilities. They will be tested in due time. At the same time, our Irbis radar may well be regarded as a kind of summit in the evolution of traditional phased arrays: it is second to none in the world as far as its potential and aerial target acquisition range (over 400 km) are concerned. Recently, we have prepared materials to show how the AESA's capabilities can be increased close enough to those of the Irbis. Now, the ball is in the customer's court, since this necessitates new technologies, new materials and new electronic componentry. Industry is to learn to make them first, and its doing so means rather considerable costs - both money and time. However, this must be done, even more so in line with the current import substitution policy.

How will your AESA radars evolve?

It is an open secret that our institute has been appointed prime contractor for the AESA radar system designed to fit the Future Long-Range Bomber (Russian acronym PAK DA). We are working in earnest on a preliminary design of the radar for the PAK DA and offering AESA variants. The preliminary designs of both the radar and the aircraft are to be submitted for approval before the end of the year. Proceeding from the outcome, a decision will be made on the schedule and phases of the full-scale development work. Recently, Deputy Defence Minister Yuri Borisov said the PAK DA was to enter production "soon after 2023". Although it is almost 10 year until the deadline, the development must maintain momentum. We should start making the design documentation, manufacture new examples and test them in a timely manner, because the systems have to undergo a huge amount of testing and development before their service entry.

Developing a radar for the PAK DA, we will build on the lessons learnt form the development of the PAK FA's AESA. It should be clear, however, that we started working on the current AESA 13 years ago. Hence, to use present-day technologies and solutions to the radar designed to enter service only in the middle of next decade would be unwise. Therefore, we will use all of our expertise, all of our technological background of the PAK FA's AESA radar, but the radar to equip the PAK DA should be more sophisticated in terms of both design solutions and electronic componentry. Then, we will apply similar improvements in upgrading the PAK FA's radar, thus ensuring the migration of the best and progressive solutions from one design to the other. Thus, what we will develop for the PAK DA will later be embodied in the PAK FA as part of its planned upgrade further down the road.

Published in Take-off magazine, November 2015.

(Photo: Tikhomirov-NIIP)