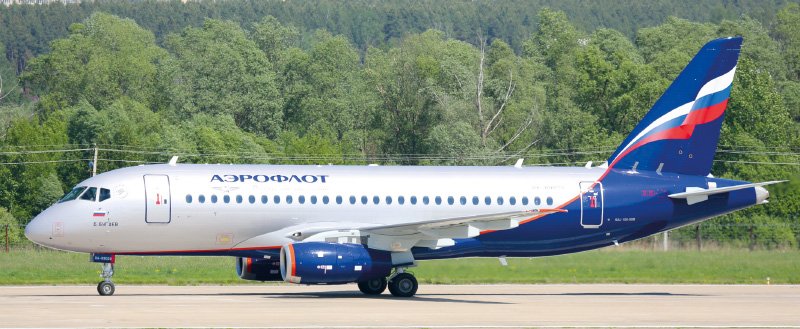 The presentation of another production-standard Sukhoi Superjet 100 airliner took place in Sukhoi Civil Aircarft Company (SCAC) Komsomolsk-on-Amur-based primary production facility in early October 2015. The aircraft had manufacturer serial number (MSN) 95100, which means it is the 100th SSJ100 built. The 100th airliner was complete this summer and it conducted its first flight on 16 September 2015. The aircraft is due to start flying for the Aeroflot carrier in 2016, with the Russian flag carrier already having 20 Superjets flying scheduled services. At present, there are over 50 SSJ100 operated by such Russian airlines as Aeroflot, Yakutia, Gazprom Avia, Red Wings as well as Mexican airline Interjet. The Russian-operated Sukhoi Superjet 100 regional airliners programme attained an important objective in May 2015, when the collective flight time of their commercial passenger operations launched in April 2011 exceeded 100,000 flight hours.
Four years in operation

The commercial operation of the advanced Russian-made Sukhoi Superjet 100 regional airliner was launched by the Armavia airline in April 2011, with Aeroflot's first airliner of the type starting commercial services in June of the same year. In March 2013, SSJ100s began to fly services throughout South-East Asia under the flag of Indonesia's Sky Aviation and Laotian Lao Central while Mexican carrier Interjet kicked off its SSJ100 operations in September 2013.

Over the four years of regular flights, the SSJ100 developed by Sukhoi Civil Aircraft Company with assistance of Alenia Aermacchi (a subsidiary of Finmeccanica) has gotten raving reports from both its users and passengers.

Sukhoi Superjet 100s now fly to upwards of 130 destinations all over the world. The type has demonstrated high reliability and operational efficiency within a wide range of climatic conditions with ambient temperature ranging from -54oC to +45oC in central and southern Russia, in Siberia, South-East Asia and Latin America.

In addition to scheduled passenger services, the Superjets have been used for chartered and special flights: three SSJ100s, including a VIP one, are being operated in this manner with Russian commercial aviation companies, and another one by the special air detachment of the Russian Ministry of the Interior. The presidential special air detachment, Rossiya, and the air arm of the Russian Emergencies Ministry are to take delivery two special-version aircraft each before year-end. In addition, one aircraft has been delivered to the Kazakh division of the Comlux company and will start flying VIP services, once its passenger cabin has been converted accordingly in the US.

In service with Aeroflot

The first ten SSJ100-95B airliners in so-called light configuration had been delivered to Aeroflot between June 2011 and September 2012 under a lease contract with VEB-Leasing company. Later on, the earlier-supplied aircraft had been replaced with airliners in so-called full configuration from May 2013 to June 2014. The delivery of the second 10-ship batch of SSJ100s to Aeroflot commenced in November last year, with Sberbank Leasing acting as lessor. The last, 10th aircraft of the batch, and the 20th in Aeroflot's fleet, RA-89051 (MSN 95089), was commissioned on 25 May 2015. In all, the contract with Aeroflot made in December 2005 provided for the delivery of 30 SSJ100-95Bs, but January 2015 saw the signature of an agreement on the delivery of 20 aircraft more. Thus, the Superjet fleet of Aeroflot and its subsidiaries will have accounted for 50 aircraft of the type.

All of Aeroflot's Superjets have the two-class 87-seat cabin layout (12 business-class seats and 75 economy-class ones). Full-configuration airliners differ from light-configuration ones in slightly modified avionics and enhanced passenger comfort. Particularly, they carry an upgraded flight control system, a weather radar capable of gauging wind shear, an extra flight attendant seat, the third lavatory and the fourth galley module. Individual air blow for each passenger seat has been introduced.

In 2014, the Superjets carried over 549,000 Aeroflot passengers. Now, the air carrier operates them from Moscow's Sheremetyevo to several dozen destinations in Russia, Belarus, Bulgaria, Croatia, Estonia, Finland, Germany, Latvia, Lithuania, Romania and Ukraine.

No doubt, one should give Aeroflot its due for having becoming Russia's launch customer for the SSJ100 and having commissioning an absolutely new aircraft type with unavoidable teething troubles. It was no small beer, and the flag carrier handled it well.

In frosty Yakutia



The second Russian carrier to start operating the SSJ100 was the Yakutia airline that got two airliners in early 2013. Both aircraft leased from VEB-Leasing have 93-seat cabins, with eight seats in business class and 85 in economy class.

The first scheduled passenger flight on the Yakutsk-Khabarovsk route was flown by a Yakutia-owned SSJ100-95B on 23 January 2013. At the initial stage of the SSJ100s' operation by Yakutia, the company worked out an individualised list destinations in the Russian Far East and Siberia as well as Chinese and Japanese cities for them.

Despite a much harsher operating environment, Yakutia's SSJ100s demonstrated a high level of reliability. Thus, the sceptics predicting possible problems inherent in SSJ100 operations in harsh Siberian winter proved to be off base. For instance, ambient temperature in Yakutsk was -47oC for a month at the time the planes were being phased into the company's flight schedule, and the airliners were not kept in heated hangars.

In 2014, Yakutia's two Superjets hauled over 90,000 passengers, having logged a total of 4,724 flight hours (2,940 h in 2013). Thus, the average monthly flight hours per plane accounted for almost 200 h last year, with 279 h in July 2014.

This summer, Yakutia's SSJ100s fly scheduled operations from Yakutsk to Blagoveschensk, Irkutsk, Khabarovsk, Novosibirsk, Ulan-Ude and Vladivostok; from Khabarovsk to Blagoveschensk and Mirny; and from Novosibirsk to Yekaterinburg and Neryungri. The Yakutsk-Harbin and Ulan-Ude-Seoul international flights are performed too. Chartered flights are conducted from Vladivostok and Khabarovsk to the Japanese cities of Osaka and Niigata.

Given the proven effectiveness of the Superjet's operations under harsh conditions in Yakutia, the carrier bearing the same name decided to buy more of aircraft of the type. During the Le Bourget air show, on 15 June 2015, SCAC and Yakutia signed a bilateral contract for three new extended-range SSJ-100-95LRs with a seating capacity of 93 (eight in business class ad 85 in economy class) to be delivered from 2017. A firm order was made for the first of the three airliners (delivery date - January 2017), and the other two are options so far, but can be delivered in autumn 2017 or early in 2018.

Gazprom opts for extended range

A new Russian user of the SSJ100, the Gazprom Avia airline, received its first Superjet in a ceremony during the MAKS 2013 air show in August 2013. Aircraft MSN 95033 (RA-89018) delivered to the carrier was the first production-standard SSJ100-95LR extended-range aircraft.

The modified SSJ100LR variant hauls the same number of passengers out to 4,580 km (the baseline SSJ100-95B - 3,050 km). The increase in range is owing to an increase in maximum takeoff weight from 45,880 kg to 49,450 kg, achieved through minor structural modifications. SaM146-1S18 turbofan engines featuring a 5% thrust increase power the LR version.

Gazprom Avia has received the 10 Superjets under the August 2011 contract. The final SSJ100-95LR (RA-89054, MSN 95092) was delivered on 10 July 2015.

Gazprom Avia ordered 90-seat economy-class airliners, with the first two rows of seats (10) having a pitch of 34 inches (864 mm) and the remaining 16 rows (80 seats) separated by a partition having a tighter pitch of 30 inches (762 mm).

Gazprom Avia commenced its SSJ100 commercial operations on 4 March 2014. Mention should be made that Gazprom Avia is commissioning the planes without haste owing to the peculiarities of its work, using them not only on scheduled services, but on rotational shift sorties and chartered flights as well. Therefore, the performance of Gazprom Avia's SSJ100s cannot be considered to be typical of the type. In 2014, they carried around 13,000 passengers.

Over a 1.5 years since their service entry, Gazprom Avia's SSJ100s operating out of the Moscow's Vnukovo airport have trodden paths to Anapa, Arkhangelsk, Belgorod, Beloyarsk, Chelyabinsk, Cherepovets, Gelendzhik, Irkutsk, Khanty-Mansiisk, Krasnodar, Nadym, Nizhnekamsk, Nizhny Novgorod, Novosibirsk, Noyabrsk, Novy Urengoi, Rostov-on-Don, Samara, Sochi, Sovetsky, Surgut, Ufa and Yekaterinburg, have been to Almaty, Astana, Nukus, Samarkand and Yerevan as well as such European cities as Brussels, Genoa, Hamburg, Naples, Prague, etc.

Red Wings: new Russian SSJ100 user



Another Russian carrier, Red Wings, started SSJ100 commercial operations on 6 February 2015. Early this year, it has received three SSJ100-95Bs manufactured in 2011-2012, of which one had been operated by the Moskovia airline that is out of business now and the two others had been in service with Aeroflot. The first aircraft (RA-89021, MSN 95021) was delivered on 19 January 2015 under the operational leasing deal struck with SCAC in October 2014, the second plane (RA-89002, MSN 95010) on 6 February, and the third one (RA-89001, MSN 95008) on 2 April 2015. All of them have the 93-seat two-class layout - eight seat in business class and 85 in economy class.

Later on, Red Wings and SCAC made an operating lease agreement for two SSJ100-95Bs more previously used by Aeroflot. One of them (RA-89008, MSN 95016) was ferried from SCAC's Zhukovsky-based delivery centre to the carrier's base airport, Domodedovo, on 31 July 2015. The other (RA-89010, MSN 95018) is due for delivery before year-end.

As is known, Red Wings' aircraft fleet has consisted of eight 210-seat Tu-204 medium-haul aircraft. Introduction of 93-seat Superjets to it has made it easier for the carrier to explore new lines. Red Wings' Superjets have been flying on scheduled services from Moscow's Domodedovo airport and from Pulkovo in St. Petersburg. This autumn, one could fly on an SSJ100 from Moscow to Grozny, Kazan, Makhachkala, Ulyanovsk and Anapa as well as from St. Petersburg to Makhachkala. Operating only three SSJ100s over less than six months, Red Wings has used them to carry more than 100,000 passengers, and the per-aircraft monthly flight time logged in July 2015 accounted for almost 290 h and can grow further.

According to Red Wings Director General Yevgeny Klyucharyov, plans provide for beefing up the SSJ100 fleet. The airline expects to receive five airliners more as soon as 2016, with all of them to be brand-new ones in the SSJ100-95LR extended-range aircraft with the 103-seat cabins.

In Latin American skies

On 18 September 2013, Russian-made Sukhoi Superjet 100 regional airliners started operating the routes of Mexican air carrier Interjet, Mexico's second-largest airline that became the SSJ100's launch customer in the Western hemisphere.

The Interjet placed its order in January 2011 for 15 airliners, later increased to 20 aircraft and, earlier this year, to 30. The supplier of the planes for Interjet is Russo-Italian joint venture SuperJet International, which Venice facilities are used for installing the passenger cabin interior from Italian designer Pininfarina, painting the aircraft and training the customer's flying and ground crews. The Mexican Superjets' cabins are single-class. They seat 93 passengers, but owing to thinner seats, they have an unusually large pitch of 34 inches (863 mm) and have entertainment systems.

To date, Interjet has taken delivery 16 SSJ100-95Bs (the 16th aircraft, MSN 95054, reg. XA-BVM) was ferried to Mexico on 5 July 2015. Two more planes (MSN 95071 and 95072) were virtually ready for delivery and customisation of Interjet's three next airliners (MSN 95065, 95081 and 95085) were under way in Venice in October 2015. Three more aircraft have been made for the Mexican carrier in Komsomolsk-on-Amur, with four next ones are in the final assembly shop. According to SuperJet International CEO Nazario Cauceglia, the number of Superjets in Interjet's aircraft fleet is to increase to 20 before the end of the year, and the 30-unit contract is to be fulfilled in 2016.

Since the very beginning of the Superjet operation, Interjet has performed very well owing to the effective after-sales support system provided by SuperJet International and to the wealth of Interjet's experience in minimising downtime at airports.

As far as uptime is concerned, the SSJ100 is virtually on a par with the Airbus A320 medium-haul airliner long used by Interjet. After 2 years in service, the Superjet's uptime has 99% at the least.

The route network the SSJ100s operate on in Mexico comprises several dozen lines stemming mostly from Mexico-City and from Monterrey, Toluca, Guadalajara and Leon as well. The Mexican Superjets fly to airports sitting in mountainous terrain, including those at over 2,200 m above sea level. The longest flight - from Mexico-City to Tijuana - takes 3 h 10 min. Since last autumn SSJ100s started scheduled operations from Monterrey to US cities of San Antonio and Houston.

Interjet is the first Western SSJ100 customer to see the contract it had awarded make it to actual deliveries and commercial operations. The SSJ100's prospects on the Western market depend heavily on the success of the contract and the results produced by Superjets in Mexico. The results produced by the Mexican SSJ100s in the first 1.5 years of commercial passenger services have been more than good. Hopefully, the Mexican experience will both pave the way to new foreign customers for the SSJ100 and serve a good example to follow by the airliner's Russian users.

New customers

During MAKS 2015 airshow in August 2015 the State Transport Leasing Company (STLC) awarded SCAC a firm order for 32 SSJ100s with 28 options valued at over 130 billion rubles (about $2 billion). Within the three trade days of the show STLC, in turn, signed agreements and letters of intent with air carriers for a total of almost 200 billion rubles (over $3 billion). The deals clinched included an agreement with the Yamal airline for 25 SSJ100s (two are planned for delivery this year and the remainder in 2016-17), Kazakh air carrier SCAT (15 firm orders and five options), Orenburzhye airline (eight SSJ100s, with the first three to arrive in 2016), Buryatia Airlines (15, including two SSJ100s previously used by Center-South airline), Tuva Airlines (10), Red Wings (15 throughout 2017, including those the carrier leased from SCAC), Yakutia (five, including the two it has operated since 2013 and three new SSJ100-95LRs to be delivered in 2017-18), etc. The first SSJ100-95LR earmarked for Yamal (RA-89034, MSN 95062) already sporting the livery of its new operator was exhibited at the static display ground during MAKS 2015.

The very important news to the Sukhoi Superjet 100 programme was announced at the European Regions Airline Association General Assembly (ERA 2015) in Berlin on 13 October 2015. Irish carrier CityJet announced its choice of the 98-seat SSJ100 for renovating its aircraft fleet and expanding its network. The agreement signed by SCAC, SuperJet International and CityJet Airlines stipulates 15 firm orders to be fulfilled during 2016-17, with 10 options. The value of the contract, including the options and services to be rendered, exceeds $1 billion. At the same time, CityJet Airlines signed a SuperCare agreement on the aftersales support of its SSJ100s for 12 years since their commissioning. SuperJet International will fulfill the contract. CityJet aircrews will start training on SSJ100s using the full-mission simulator at the SuperJet International Training Centre in Venice later this year.

The first four SSJ100s are scheduled for delivery in 2016, with the remaining 11 to follow during 2017. CityJet is planning to use its Superjets instead of its current Avro RJ85 (BAe-146) four-engine regional jets operating throughout Europe, including in London City airport right within the British capital, which has a runway of only 1,500 m long. The SSJ100 is said to be able to be certificated for services to London City airport by late 2016. Most probably, it will be the SSJ100-95B-100 (RRJ-95B-100) variant powered by SaM146-1S18 engines featuring a 5% increase in thrust (these engines equip the SSJ100-95LR extended-range aircraft with an increased MTOW).

_

New business plan of SSJ100 programme and prospects of wet leasing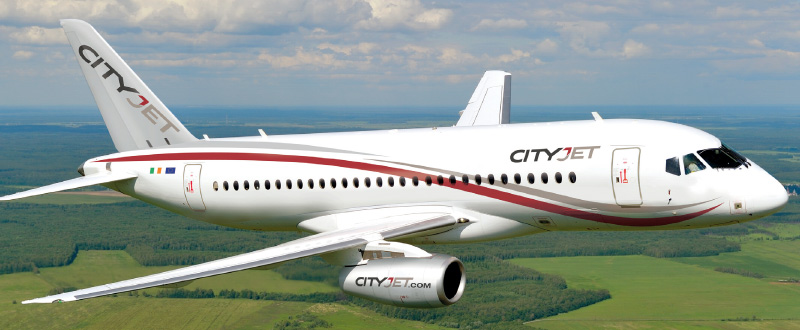 The board of directors of the United Aircraft Corporation (UAC) convened in Moscow on 23 September 2015. It considered and approved an updated business plan of Sukhoi Superjet 100 regional airliner programme. According to UAC President Yuri Slyusar, it is "more realistic" that the previous one and provides for the selling of 595 SSJ100 aircraft in various versions until 2031. The implementation of the revised business plan entails the resolution of several important problems, including manufacturing process optimisation, cost reduction, aftersales support programme restructuring and stepping-up, and introduction of effective competitive mechanisms of the airliner's market promotion and sale, which will be attractive to customers on a highly competitive market. The mechanisms in question are supposed to include wet leasing enabling a potential customer to see the plane's advantages with his own eyes in practice, as part of its actual operation, and to take a deliberate decision on subsequent purchases or making a financial or operating lease contract without any risk to himself.

According to UAC President Yuri Slyusar, the updated business plan of the SSJ100 programme was devised by order of the Russian President, issued when taking a decision on Sukhoi Civil Aircraft Company follow-on capitalisation and the provision of governmental support on condition of a realistic business plan subject to a review by an independent auditing agency and approval by UAC's board of directors. The plan was drafted between April and August 2015.

"The work was aimed at deciding how many aircraft should be stipulated by the business plan. Their number had varied since the launch of the programme. Estimates varied from moderately optimistic to radically pessimistic ones," Yuri Slyusar said. "The number mentioned by the business plan now is realistic and based on the assessment of the market and our capabilities and our competitive edge as well. Now, the business plan provides for selling 595 Sukhoi Superjet 100 aircraft before 2031." The number includes 82 baseline SSJ100-95B aircraft (including the delivered ones), 331 SSJ100-95LR extended range airliners, 140 advanced stretched 110-125-seat planes and 42 SBJ bizjets.

Yuri Slyusar said more aircraft had been made than sold in 2014, which was a cause of the deterioration of the SCAC financial standing. "Plans for 2015 are more realistic and corresponding to actual sales: there will be 17-20 SSJ100s built and about 27 sold this year, 25 in 2016 and 34 in 2017," the UAC president said. He added that the numbers emanated from a difficult analysis: "Our objective was not to go too optimistic, on the one hand, and, on the other, to remain profitable enough despite our considerable investment in the development of the aircraft and re-equipment of the manufacturing plant, which has told upon the cost. Nonetheless, the programme may turn out to be profitable. Our market prospect estimate was conservative enough."

Another key issue in devising the business plan was to set the optimal price of the plane and, hence, a competitive lease rate. "The terms leasing companies and we offer should be so that the monthly payment is about $185,000. The very sale of our aircraft to a leasing company should make profit," Yuri Slyusar said, adding that a way to reduce the aircraft's price may be a more flexible approach to fitting it out: "Even the baseline model of the SSJ100 has numerous solutions needed not by all customers. Therefore, it is possible to simplify the baseline model a bit to offer it to those customers, who do not needs sophisticated systems like that, while making the additional solutions optional, which will enable customers to buy our aircraft at a more attractive price."

The efforts to optimise the production process and slash costs under the business plan pertain to both the primary production facility in Komsomolsk-on-Amur and the subcontractors. "The efforts include a reduction in labour intensity and costs and an increase in quality and manufacturability. On the whole, the savings should average $2.6 million per aircraft," the UAC president added.

Close attention will have to be paid to the restructuring and improving of aftersales support measures, setting up spare parts storage facilities, introducing up-to-date logistics and wooing numerous partners for maintenance and repair.

"In addition to the general competitiveness of the aircraft, and effective aftersales support, there should be a quality operation support and an attractive financial package. This is our priorities now," Yuri Slyusar said. "We should show the aircraft users where and how we will support the operation of the aircraft, why it will not sit idly, rather fly and earn them money. The lease payment rate and the price of the aircraft should be attractive; therefore, while selling the aircraft cheaper than our competitors, we need to continue to make profit."

The UAC head reminded that after the follow-on capitalisation of SCAC by 100 billion rubles (over $1.5 billion at the current rate), the company's debt reduced to 6.9 billion rubles (just over $100 million) and is no longer a factor aggravating its financial standing and driving up the cost of the aircraft via the financial expense - SCAC has become more financially stable in this respect. "We expect operating profit next year, and are planning to get net profit in 2017," Yuri Slyusar summarised.

In addition to Russia's domestic market and CIS countries, the principal markets for the SSJ100 are believed to be European, Latin American and Middle Eastern countries and China. Thus, the company still wants to export the bulk of the SSJ100s to be made under the updated business plan (as is known, the share of the exports was initially estimated at about 70% of the SSJ100 output). In this connection, given tough competitors on the global market, which are well versed in sales on all continents, the company has to offer very attractive terms of buying the aircraft to customers that may include both major airlines (e.g. Interjet - Mexico's second-largest carrier that ordered 30 SSJ100s and is effectively operating the first 16 of them) and small carriers, including fledgling start-ups.

A possible way to woo new customers may be Russian leasing company Ilyushin Finance-proposed wet leasing of SSJ100s for six months. Over this time, the potential buyer has an opportunity to see the strengths of the Russian aircraft with his own eyes and take a well-thought-out decision to get SSJ100s through operating or financial leasing or simply buy them. Wet leasing provides for giving the lessee some other carrier's aircraft along with the flying and ground crews and a full package of maintenance and repair. Ilyushin Finance Co. promotes wet leasing of SSJ100s to foreign customers in tandem with Russian airline Red Wings that maintains long-time strong ties with the lessor. At present, in addition to four SSJ100s Red Wings has eight Tu-204-100 and Tu-204-100B medium-haul airliners, of which seven were leased from Ilyushin Finance. Moreover, Ilyushin Finance could become the primary stockholder of the airline (recently, UAC's board of directors has approved the handover of Red Wings' stock to Ilyushin Finance Co.), which will make the links between the two companies even stronger.

This is what Red Wings Director General Yevgeny Klyucharyov told Take-off about the wet leasing mechanism his company and Ilyushin Finance promote: "The idea is that at first, our crew flies the plane and our ground crew maintains it in the interest of a foreign airline that has an opportunity to see how the aircraft behaves in operation, what its performance is, what results it produces, and whether it likes the aircraft or not. Then, it leases or buys the aircraft. Thus, we promote the aircraft on the international market, while gaining certain commercial profit at the same time too."

At the Paris Air Show in June this year, Ilyushin Finance Director General Alexander Rubtsov told journalists that he had met leaders of five foreign air carriers and offered them wet leasing of SSJ100s with Red Wings' crews and maintainers for six months. "Few are willing to buy a plane that is new on the market," Alexandуr Rubtsov said, "and the solution we offer enables one to avoid risks: the company that flew our plane for a while and saw it in person will be able to take the deliberate decision on buying it."

The result did not take long to appear. As soon as August, during the MAKS 2015 air show, Ilyushin Finance, Red Wings and Cambodian carrier Sky Angkor Airlines signed a trilateral agreement on wet-leasing an SSJ100 to the Cambodian airline. If Sky Angkor Airlines makes certain that the Russian aircraft meets all of its requirements, it will take an operating lease of two new aircraft of the type from Ilyushin Finance. As was reported in the press, the Cambodian carrier may wet-lease the first aircraft as soon as late this year, and the two brand-new ones may be delivered in 2016.

Similar deals are known to have been discussed with representatives of not only the Cambodian air company, but those of Vietnamese and Thai carriers.

Ilyushin Finance Co. has a wealth of experience in dealing with foreign customers, providing them with leasing services and obtaining export loans. Suffice it to say that several countries operate more than a dozen Il-96-300, Tu-204-100E, Tu-204-100CE, An-148 and An-158 aircraft exported by Ilyushin Finance. The company's orderbook includes 28 SSJ100s. It signed a contract with SCAC for eight SSJ-100-95LRs in July 2014. A year before that, in August 2013, the two companies made an agreement on the acquisition of 20 Superjets in both current versions - the baseline and extended-range ones. A provision on the governmental guarantee of loans for financing the delivery of 20 SSJ100s to the Aeroflot airline has been introduced to the 2016 draft federal budget. Ilyushin Finance is regarded as the possible lessor under the deal.

The Red Wings airline, which control Ilyushin Finance may assume in the near future, has four SSJ100-95Bs in operational leasing. It is to take delivery of the fifth aircraft before year-end. This simmer, just six months after receiving its first Superjets, the carrier saw them perform very well in commercial terms - comparable to the results produced by Mexico's Interjet and appreciably better than those produced by other Russian operators of the type. Red Wings is going to lease five SSJ100s more next year - brand-new ones this time, with 103 economy class seats, thus driving its Superjet fleet up to 10 aircraft.

Published in Take-off magazine, November 2015.

(Photo: Sergei Lysenko, Eduard Borisenkov, Andrey Bludov, CityJet)